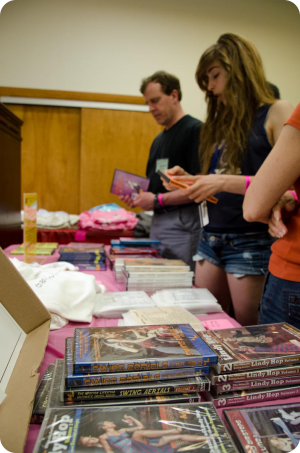 The Camp Shop is a place to find an assortment of dance-related items such as T-shirts, DVDs, posters, CDs as well as other dance apparel and accessories. Cash and credit cards will be accepted for purchases.
The Beantown Camp Video can be pre-ordered at a discount price by cash, credit card or check.
Please bring any dance-related items that you would like to sell (if possible come to the Camp Shop Drop-Off  period on Friday). A 15% commission will be taken on all items sold. The camp cannot take responsibility for the items held in the shop, but the shop will be locked when not staffed.
The shop will generally be open for about one hour each day and times will be posted. Don't miss the special Vintage Faire on Saturday evening!