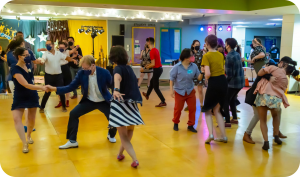 There will be two fun contests on Sunday evening, and everyone is welcome to participate! Sign up will be at camp, and there are no contest fees.
Partner Soul Contest
Sign up with a partner and be ready for a good time with some sweet soul music. Everyone will dance together, and a few finalists will be selected. Finalist pairs will dance at the same time, concluding with one overall winner.
Team Challenge
Gather together a group of six and sign up at camp with your team name. The format for this year is to be decided. One overall team winner will be declared.