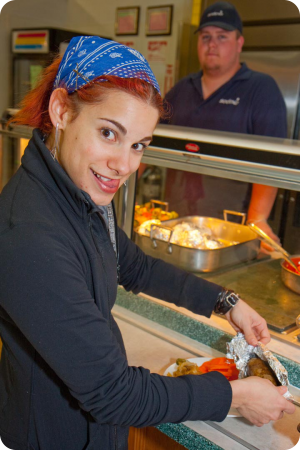 Food service is provided by Sodexho Dining Services. Meals are scheduled for the entire camp to eat together and are a great time to spend with new and old friends. When you're tired and have worked up a good appetite, that's when you will really appreciate having everything ready made for you in the dining hall. A time to sit down, relax, let out a big sigh and dig in!
Three meals a day are provided, which are varied day-to-day and plentiful. The dining room features a food court with separate stations offering a variety of hot entrees, vegetarian stir fries, soup, pizza, pasta, grilled sandwiches, a deli and salad bar, fresh fruit, self scoop ice cream, and a variety of way too delicious desserts. Choices always include vegetarian and vegan selections. Campers have praised the food service for providing healthy, delicious meals and for taking extra steps to accommodate special needs.
All on-campus accommodation options include the full meal plan. For those not staying on campus, there are choices of the Lunch Only or Full Meals plan. It is highly recommended to select at least the lunch only option as lunch time often includes such things as camp announcements.
Please note that individual dining hall meals are not available for purchase and only campers on the meal plan will be permitted in the dining room during meal times.
Sodexho needs to plan for meals, so please register in advance to guarantee availability. There will be a limited number of last minute meal plan requests that can be accommodated.