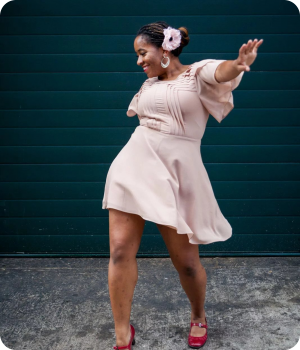 Dee started Swing Dancing at the age of four with her Dad in the basement, wearing her Mom's heels and her favorite plaid skirt. With a hiatus into hip-hop during her school years, she was called back to Lindy Hop, and co-founded her college swing dance club. She has became an influential member of the Minneapolis scene. For over a decade she's shared her love of Lindy Hop with dancers young and old, teaching and dancing nationally at swing dance events.
Dee loves feeling free on the dance floor and advocates for self-expression and individual creativity as the true spirit of Lindy Hop and Vernacular Jazz. She dances for joy, and in either partnered or solo dancing, searches for presence in each moment. She loves responding to the music and partner, priding herself on making each dance unique to the musical experience and partner, creating an authentic dance conversation.
She has taught, performed, and choreographed nationally and internationally, but mostly she wants to have a good dance. You should ask her, she follows and leads and wants to dance with you.