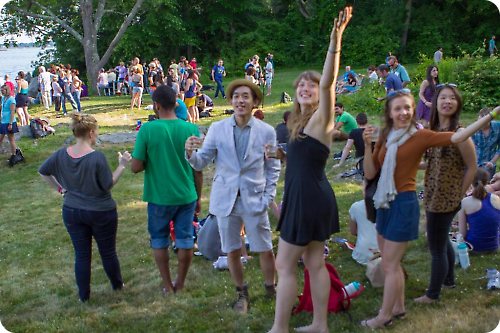 Shut off the stresses of the outside world, relax in a beautiful shoreline setting and enjoy immersing yourself in dance camp. Outstanding instructors, incredible bands, a wide range of Lindy Hoppers from near and far. Many class options, inspiring performances, lots of social dancing, karaoke, Beantown's Got Talent, fun competitions, camp social, camp BBQ, Soul Dance Party, tons of fun. Comfortable housing options, high quality meals, private beaches, excellent facilities. Meet a living legend of Lindy Hop, make new friends, join a music jam, swim in the ocean, play volleyball by the beach. Feel the Lindy Love! In a nutshell, that's what you get at Beantown!
Beantown runs from June 25 to July 2. Do the week to get the full experience! Most campers stay on campus, which is highly recommended.
The website is in the process of being updated and new information is being added daily.