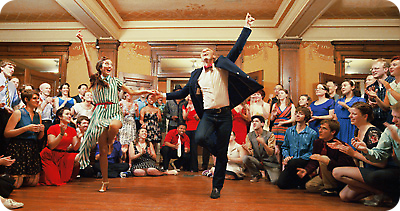 This film was made by Swing dancers for Swing dancers and features acting and dancing by Lindy champions Dax Hock and Sarah Breck, choreography by Kevin St. Laurent and Jo Hoffberg, and killer tracks by Carsie Blanton, the Low Down Sires, and Caravan Palace!
Find out more about the film and check out the trailer.
There is a one-night-only premiere event planned around the world to be held on Thursday, March 12. This may be our only chance to see the film in theaters. To be sure we get a Boston showing, we must purchase enough tickets by February 15. In addition, a percentage of ticket sales will go towards supporting Swing dancing right here in Boston!
Let's be sure we get a Boston showing! Plus support our local scene! Any funds raised for Hop to the Beat will go to the Beantown Scholarship Donation to help past Frankie Ambassadors return to camp this year.
Beantown Scholarship Donation information.