Beantown Camp 2013 Announcement
By Beantown Camp | Tue, 01/15/2013 - 3:40am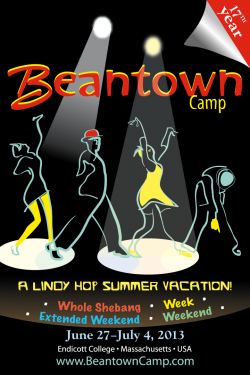 Plans for Beantown Camp 2013 are well under way! This will be #17 and everything is coming together for something pretty special! This year camp runs from June 27 to July 4th and we will be back on the beautiful Endicott campus on the shore just north of Boston. Although the general format will be similar to last year, there are some schedule and activity changes and additions to ensure maximum fun and awesomeness!
The new registration format seemed to work well last year with the ability to register for Beantown separate from the housing and meal options.
New for this year will be the procedure for organizing the Lindy Hop tracks, with the majority of placements determined through an audition process. It is an ever-changing process with the intention to create the most ideal groups based on who attends each year.
Although much of the website is updated for 2013, the registration section is being reworked, staff additions are in the process of being confirmed, and the schedule will certainly have some tweaking as well as class details to be added.
Registration will be opening February 5th. Stay tuned for information on early bird pricing options. Make your plans for starting out the summer at Beantown Camp! You will be glad you did.