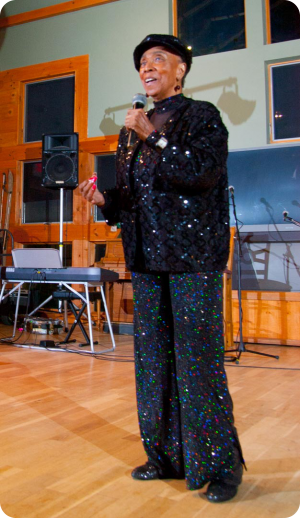 We are very sad with the passing of Norma Miller on May 5. She wanted so much to make it to 100, and we wanted to be there to celebrate her. Even at 99, she was so full of life, and we loved her dearly.
Norma started coming to Beantown back in our early days at Wheaton College. You would not want to miss one of her presentations or Q&As, as with each one, you'd learn something new, and be incredibly entertained. Norma had a great memory and gave us so many first hand accounts about dancers, bands and experiences from all her years. Plus she had opinions, and was not shy about stating them!
Norma was a genuine and easy person to talk with, and we're thankful for all the opportunities we had to spend time with her. We always encouraged others to be sure and speak with her personally, as she loved dancers and was always happy to meet everyone. We're grateful so many were able to meet her over all the years at Beantown. Norma loved hearing the bands, watching the dancers and being around new generations of Lindy Hoppers. Plus Norma participated! She sang, she danced, she told jokes, and she shared her life with us.
We lost our King, and now our Queen. We have to believe they're together again.
You can find the full obituary in the New York Times.
Known to many as the Queen of Swing, Norma Miller is an author, choreographer, dancer, comedian and actor whose career spans over seven decades. Discovered at the age of twelve by the Savoy Ballroom's legendary dancer Twist Mouth George, Norma has been in show business ever since. As the youngest member of the legendary group, Whitey's Lindy Hoppers, she toured the world and appeared in numerous films. In the years since, she has formed several of her own performance groups. In her career as a comedian, she worked with Redd Foxx for over 10 years, including appearances on his network TV show. In 1992 she was nominated for an Emmy for her choreography in the CBS movie Stompin' at the Savoy. Norma has written a memoir of her days as a dancer in her book Swingin' at the Savoy and told the story of her amazing life in the wonderful children's book Stompin' at the Savoy. Norma was featured in the Ken Burns documentary Jazz. She is an outspoken and entertaining speaker and enjoys sharing stories of her experiences.
Norma had her 99th birthday this past December and she is still incredibly active appearing throughout the world. This will be a wonderful opportunity to meet this amazing lady in person!