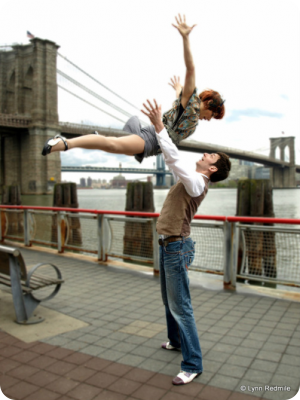 Evita and Michael are International Lindy Hop performers and instructors based in New York City. They bring an exuberant energy and joy to every project, whether it's teaching Swing classes worldwide or performing in renowned theaters. Their combined resumes span the globe, together having performed on prestigious stages, dancing with Philharmonic Orchestras, touring with Broadway shows, working with Jazz at Lincoln Center, plus television appearances on the American TV show, So You Think You Can Dance.
Michael and Evita have worked together as dance partners for over 10 years and have been dancing Lindy Hop for 17 years.
Michael and Evita developed a home teaching regular classes at Dance Manhattan, New York City's most recognized school for social dance (2005–2014).
As dance teachers, Michael and Evita emphasize the understanding of anatomy and efficient use of the body. Connecting movements through elegant flow, clearly projecting direction within the body, and romantic personal interactions are what create their lead and follow technique. Above all other descriptions, one will surely say that Michael and Evita are inspiring to watch and possess a warm welcome to any student of Lindy Hop.
Currently, the two produce performance material for Syncopated City Dance Company.
It is thanks to Ryan Francois and Jenny Thomas that Evita and Michael were introduced to each other while working with Ryan's dance company in Los Angeles in 2003. Both Ryan and Jenny have played a large role in mentoring Evita and Michael and carved out the path for the professional dance career they now have.