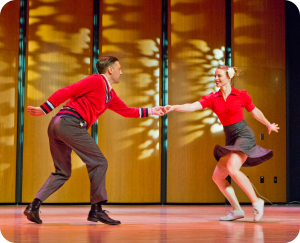 Based out of Providence, RI, Daryl and Jennifer have been dancing Lindy Hop and Charleston together since 2002 and teaching since 2005.
Daryl has spent a considerable amount of time studying the classic footwork and movements of the original Lindy Hoppers and as a result, has an in depth and personalized understanding of the dance.  Mostly self taught, Daryl has the ability to demonstrate complex concepts and loves incorporating the history of the Jazz era dances into his teaching. He also loves to compete and sees it as an opportunity to continuously improve.  In addition to choreographing quality performances for Providence Swings since 2006, he created the performance group The DownCity Strutters in 2009 to further his own dancing and commiserate with fellow obsessed Lindy Hoppers.
Jennifer, who can't keep still whenever music is playing, likes to let movement flow organically, as dictated by the feel of the music and loves any chance to be spontaneous and silly.  She has a solid understanding of how to move the body and strives to articulate those ideas to her students. Most of all, she's big on having fun with it, which is usually quite evident when she hits the dance floor. In addition to being an active competitor and teacher, she's also a tireless organizer, choreographer and performer, having contributed her talents to Providence Swings since its inception and challenging herself in The DownCity Strutters performance group.
Daryl and Jennifer are both thrilled to be teaching at Beantown!