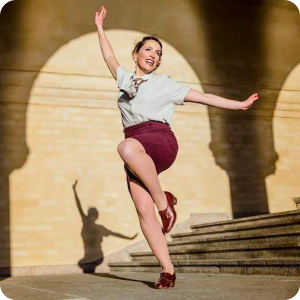 Alice started dancing at four years old. From 4-14 yrs old she had the honor of interpreting almost every single Disney Character from Dopey to Tinker-Bell.
She eventually joined a national dance school for another four years where she practiced Ballet, Contemporary and Jazz dance daily. Slowly burning out with these dance styles, she began to look for something new. After a few unsuccessful attempts at African dancing, Flamenco, and kick boxing she eventually met her true love, Lindy Hop!
Meanwhile Alice was studying to become an architect and working in the beautiful south of France. She was sharing her time between dance and architecture when the opportunity arose for her to dance full time. With some slight fear and hesitation, she took the leap, and pursued what she loved the most. She has since been touring and teaching full time living the adventurous Lindy-Lifestyle.
Alice is definitely at her happiest when she is swingin' it on the dance-floor. You will most likely hear her giggling from the other side of the room when she is social dancing. Alice enjoys keeping her dancing simple and natural. It seems like her silliness has reached enough people since she won the "dancers choice award" at ULHS in 2006. In class, she teaches the same principals that she cherishes as a dancer and she mainly focuses on keeping things simple and in rhythm.