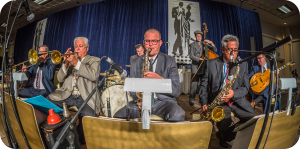 The Candy Jacket Jazz Band is a nod to the past while also pressing forward with fresh, original compositions. The group was started in 2015 by Los Angeles based Jazz drummer Josh Collazo.
Josh has been playing in traditional Jazz and swing bands since he was 18 years old. Over the last 18 years, he has performed with countless bands which include Edward Sharpe & the Magnetic Zeros, Jonathan Stout & his Campus Five feat. Hilary Alexander, the Carl Sonny Leyland Trio, Dave Stuckey & the Hot House Gang and the Lindy Focus All-Star Orchestra led by Jonathan Stout.
Eventually a chord struck inside him to begin composing original "classic" Jazz and swing music in the style that he holds dearest in his heart. He enlisted long-time musical companion, saxophonist and co-arranger Albert Alva to begin wading through the pile of songs that had been stacking up. Over the course of a few months, Albert and Josh created the arrangements that would go on to be recorded for the groups first album. Finding the right musicians for the new band was not difficult at all since Los Angeles has a thriving "vintage" Jazz scene.