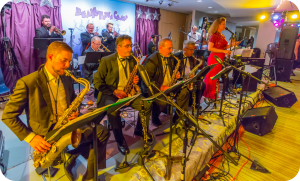 The Jonathan Stout Orchestra, featuring Hilary Alexander is one of the nation's premier Swing dance bands. Showcasing the big band sound of the late 1930's and early 1940's, and is the most danceable Swing band anywhere. This year the JSO will be expanded to 18 players, allowing to venture into new charts. We may even be treated to some Lionel Hampton!
Both founders are dedicated Swing dancers, and the relationship between Swing music and Swing dance informs all aspects of the JSO. Song selection, tempo, song length and feel are all chosen with danceability in mind. Jonathan Stout's bands have been featured at many of the premier Swing dance events around the world, and are known for their unparalleled competition music, inspiring dancers to new heights.
Jonathan Stout's Campus Five featuring Hilary Alexander albums, "Jammin' the Blues", "Crazy Rhythm", "Moppin' and Boppin'" and "Spreadin Rhythm Around" are favorites of Swing DJs and Swing Dance Instructors all over the globe.
We are incredibly thrilled to have the Jonathan Stout Orchestra back at Beantown again this year playing Saturday night. Now that is something to get excited about!