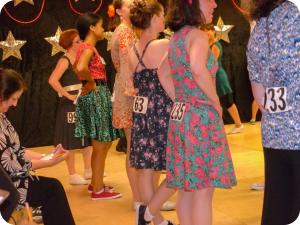 This year will have a different take on competitions. There are two fun contests to participate in. Sign up will be at camp, and there are no contest fees.
Partner Soul Contest
Sign up with a partner and be ready for a good time with some wonderful soul music. Everyone will dance together, in heats if needed, and a few finalists will be selected. Finalist pairs will dance either two at a time, or all together, concluding with one winner selected.
Team Challenge
Form a group of six and sign up at camp with your team name. This contest will consist of rounds of dancing to different styles of music, with varying numbers of participants in each round. Finalists will be selected to battle it out to one winning team.