The information on this page is for Beantown Camp 2018.
Get on the
mailing list
to get notified when further information for Beantown Camp 2019 is available.
Norma Miller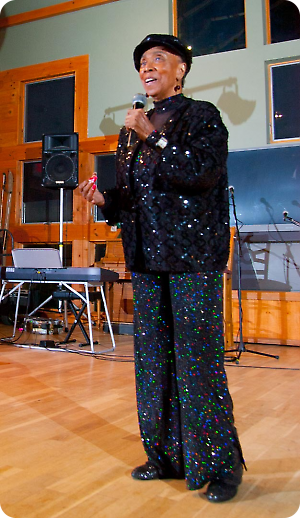 Known to many as the Queen of Swing, Norma Miller is an author, choreographer, dancer, comedian and actor whose career spans over seven decades. Discovered at the age of twelve by the Savoy Ballroom's legendary dancer Twist Mouth George, Norma has been in show business ever since. As the youngest member of the legendary group, Whitey's Lindy Hoppers, she toured the world and appeared in numerous films. In the years since, she has formed several of her own performance groups. In her career as a comedian, she worked with Redd Foxx for over 10 years, including appearances on his network TV show. In 1992 she was nominated for an Emmy for her choreography in the CBS movie Stompin' at the Savoy. Norma has written a memoir of her days as a dancer in her book Swingin' at the Savoy and told the story of her amazing life in the wonderful children's book Stompin' at the Savoy. Norma was featured in the Ken Burns documentary Jazz. She is an outspoken and entertaining speaker and enjoys sharing stories of her experiences.
Norma had her 98th birthday this past December and she is still incredibly active appearing throughout the world. This will be a wonderful opportunity to meet this amazing lady in person!