Beantown Camp 2015 Class Review DVD/Download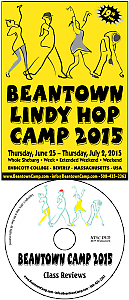 The Beantown Camp 2015 class review video includes most of the classes during the whole camp. It is available as a DVD and/or online download.
Class Reviews
Andy Reid & Nina Gilkenson
Andy Reid & Daryl Begin
Anthony Chen
Bobby White & Kate Hedin
Daryl Begin & Jennifer Stout
Emelie & Rebecka DecaVita
Gaby Cook
Javier Johnson & Gaby Cook
Javier Johnson & Sylvia Sykes
Jenny Thomas & Evita Arce
Jon Tigert
Jon Tigert & Jenna Applegarth
Josh Mclean
Michael Jagger & Evita Arce
Michael Jagger & Jenny Thomas
Michael Seguin & Gaby Cook
Michael Seguin & Nina Gilkenson
Mike Roberts & Laura Glaess
Nathan Bugh
Nathan Bugh & Evita Arce
Nathan Bugh & Gaby Cook
Richard Badu
Skye Humphries
Skye Humphries & Sylvia Sykes
Sylvia Sykes
Zack Richard & Lunou Samson Poirot
Total Running Time: 2:22
The DVD is NTSC 16:9 Anamorphic Widescreen.
The online download is available in two file sizes. They have named chapter markers for easy navigation in compatible players such as Apple's QuickTime Player. The files can be downloaded once within a year of purchase.
The file download is for your personal use only. Please do not send to others or upload to video sharing sites. Instead, direct anyone interested to purchase the video. There is considerable expense involved in facilitating, filming and editing the material to make the clips and that is funded by the sales. Thanks for your support.