Beantown Registration Update
By Beantown Camp | Tue, 03/12/2013 - 8:13pm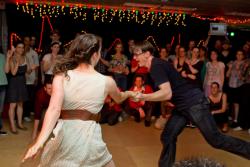 Thank you to everyone who has already registered for Beantown! We are looking forward to welcoming you to camp this year. There are currently only a handful of 4th tier spaces left. Register now if you would like to grab one!
One of the housing choices has sold out, but there are still plenty of great options to choose from.
Join us for an amazing dance vacation! Beantown runs from June 27 to July 4th with multiple registration options to choose from. Register now to join dancers from around the country and beyond.
If you are planning to attend, please respond on the Beantown Facebook event page if you have not already done so. Thanks!