Holiday Gifts of Dance
By Hop to the Beat | Thu, 12/22/2011 - 3:40am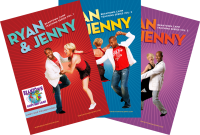 There's still time to get a gift of dance this holiday season! Here's what you will find in the Hop to the Beat Shop:
Ryan and Jenny's series of teaching DVDs. Ryan and Jenny are two of the best Lindy Hop teachers and performers in the world. These DVDs are jam packed with information with very clear presentation and tons of demonstration.
Beantown Camp DVDs, including the 3 DVD set for 2011 covering class recaps, competitions, evening and class performances and Beantown Bounce (the awesome show)!
Beantown Camp and Hop to the Beat T-Shirts.
Gift Certificates which are customized to any amount.